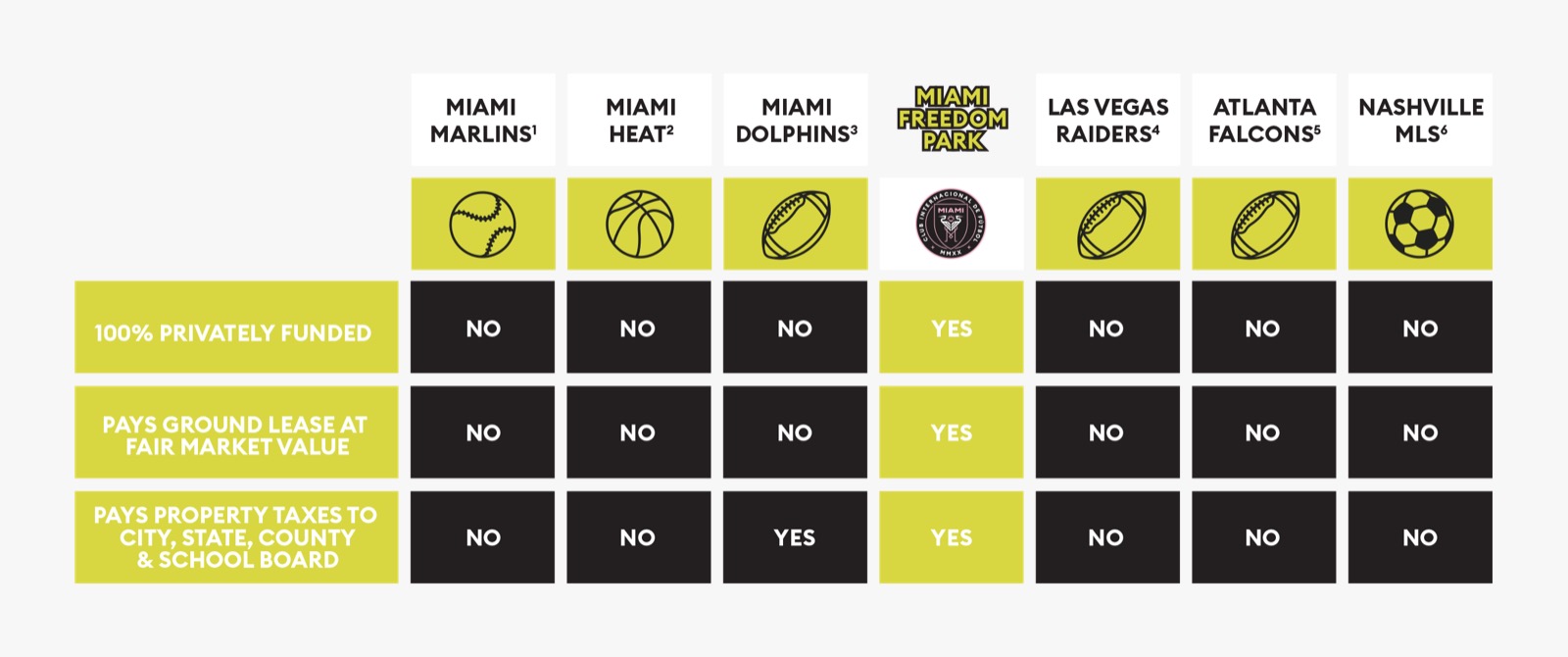 Miami-Dade County and the City of Miami contributed $464 million in public subsidies for the construction of Marlins Park and the adjoining parking garages plus $1.0 million per year for maintenance of the baseball stadium.

 

See Miami-Dade County Memorandum from George Burgess, dated February 21, 2008.
Miami-Dade County committed to pay the Miami Heat an annual payment of $8.5 million per year during the thirty (30) year term of the Development Agreement or an aggregate payment of approximately $255 million.

 

See Miami-Dade County Memorandum of Carlos Gimenez, dated June 3, 2014.

 

The Development Agreement has been subsequently amended to revise the amount due by Miami-Dade County.
Miami-Dade County pays the Miami Dolphins up to $5,750,000 per year for staging "Marquee Events" at Hard Rock Stadium and in consideration for moving its new practice facility to the property. See Miami-Dade County Resolution No. R-798-18
The State of Nevada agreed to issue bonds in an amount of up to $750 million for the construction of the stadium.

 

See Las Vegas Review Journal, 65,000-Seat Las Vegas Raider Stadium will Cost $1.8B to Build, dated March 21, 2018 (https://www.reviewjournal.com/business/stadium/65000-seat-las-vegas-raiders-stadium-will-cost-1-8b-to-build).

 

With respect to the rent and property taxes, please see Section 4.1 and Section 7.10, respectively, of that certain Stadium Lease Agreement between Clark County Stadium Authority and Raiders Stadium Events Company.
The Atlanta Falcons will receive approximately $700 million in public subsidies for the construction and maintenance of Mercedes Fields, which includes $200 million for the initial construction.

 

See The Guardian, Why are Georgia Taxpayers paying $700 for a New NFL Stadium (https://www.theguardian.com/sport/2017/sep/29/why-are-georgia-taxpayers-paying-700m-for-a-new-nfl-stadium) and Atlanta Journal Constitution, An Up Close Look at Falcons Stadium Deal, March 23, 2013 (https://www.ajc.com/news/close-look-the-falcons-stadium-deal/MCfsBYNfD1LzX96unwy9qM)
City of Nashville and other governmental agencies agreed to pay $200 million of the $225 million construction cost.

 

See Tennessean, Nashville MLS Stadium Project Wins Final Metro Council Approval, September 4 2018 (https://www.tennessean.com/story/news/2018/09/04/nashville-mls-stadium-soccer-council-vote/1162074002/).